Below is a letter of congratulations and thanks from the Honorable Michelle Van Cleave, National Counterintelligence Executive to the members of the Business Threat Awareness Council.
Click here to read.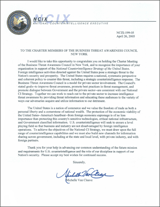 Welcome to BTAC
The Business Threat Awareness Council is a voluntary group of professionals from the private and public sectors whose main goals are to improve threat awareness, promote best practices in threat management and business counterintelligence, and to disseminate this information to American businesses.
Find out more about the Council ›

BTAC Meetings
Our meetings are forums to exchange ideas, alert others to new and existing threats, and to meet like-minded professionals for the purpose of strengthening the infrastructure of America's commerce.
Find out more about the BTAC meetings ›
BTAC Audio
Select audio talks from BTAC speakers are now available online in the Audio section. Click here to listen ›
BTAC Press Room
'The UN File: Devil's Deals at Turtle Bay' is topic of next BTAC lunch with Claudia Rosett
January 6, 2010
'Money Laundering Schemes Of Organized Crime: Risks To Private Companies' is Topic of Next BTAC Lunch Meeting
June 1, 2008
The Hidden War on America: Identity Theft, Information Security, and Terrorism
May 12, 2008
'Deadly Cost of Fake Drugs' is Topic of Next BTAC Lunch Meeting
February 7, 2008